Jessica Vriend was called to the bar in Ontario in 2017 and practices civil litigation. Her developing practice is focused on estate litigation, commercial litigation, employment disputes, and land-based disputes and litigation.
Prior to joining Kinch Eddie Litigation, Jessica practiced in wills and estates and family law at a local firm in Cobourg, Ontario, and provided duty counsel services through Legal Aid Ontario. Her background in drafting wills and powers of attorney gives her a unique perspective on estate litigation matters, and she continues to take on a select number of family law files.
Jessica has represented clients and been involved in matters before a variety of courts and administrative tribunals, including the Ontario Superior Court of Justice, the Divisional Court of the Ontario Superior Court of Justice, and the Local Planning Appeal Tribunal (formerly, the Ontario Municipal Board).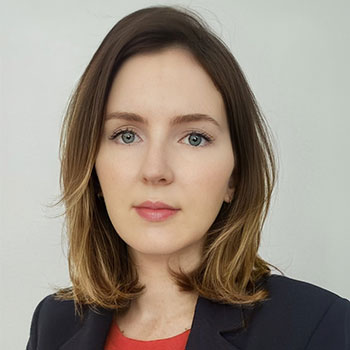 Jessica received her law degree from Queen's University Belfast in 2013, and her Master of Laws from Osgoode Hall Law School (York University) in 2016. She also has a certificate of completion from the Osgoode Intensive Program in Wills and Estates (York University).
Originally from Prince Edward Island, Jessica now calls Cobourg, Ontario home. In her spare time, Jessica is involved as a volunteer with the Northumberland United Way. She also enjoys reading, drawing, and spending time outdoors biking or hiking with her husband.